Service Manager, Powered by Technisoft For service-based businesses, the key to success is a streamlined and efficient call centre that presents all the information quickly to your staff when they need it. Sage 300 enables customer information to flow throughout the business– from the call centre to the technicians on the road and ultimately to the customer. Make your service and maintenance resources work harder with true, centralised accountability that helps you manage the resources, products and services your business offers. Access your data locally or from the field using mobile or web technologies to save time, lower expenses, monitor profitability, increase productivity and most importantly, improve customer satisfaction.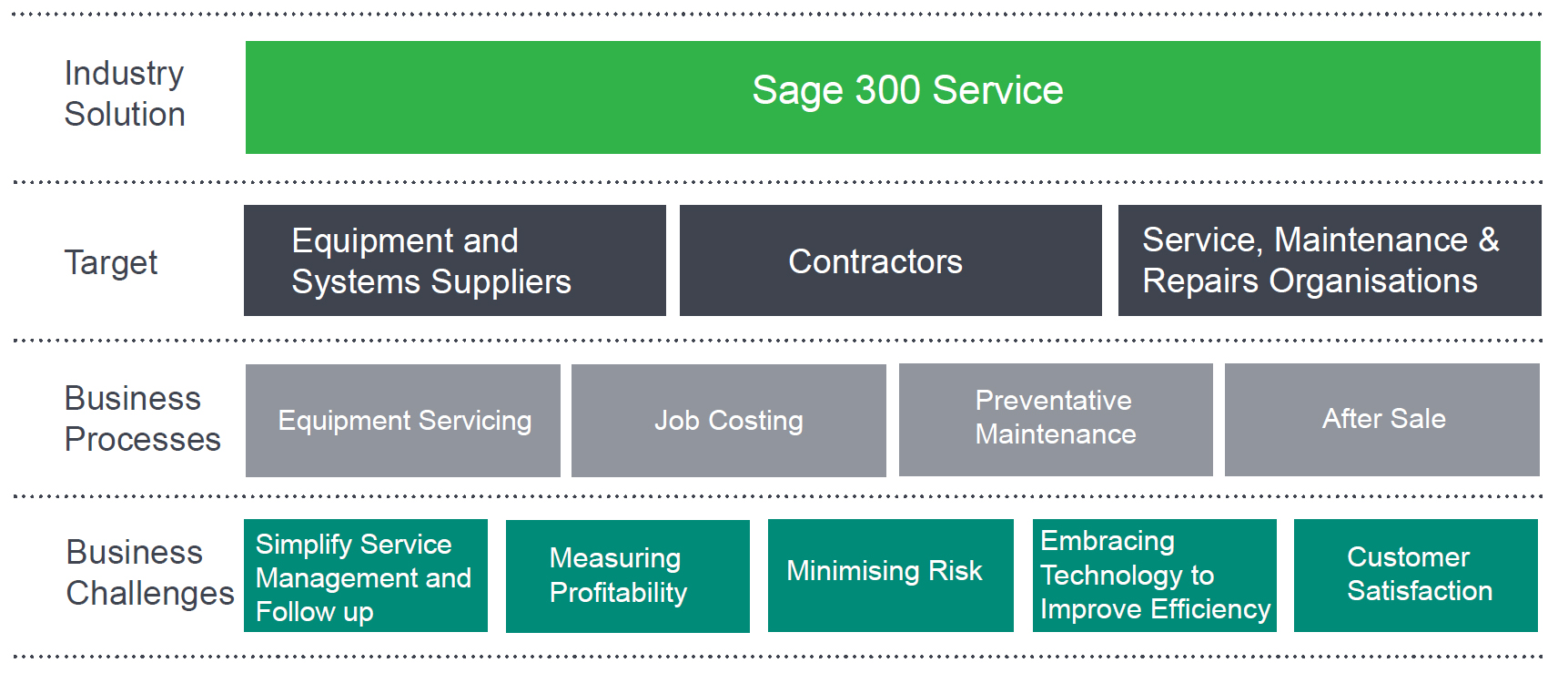 Challenges that Service companies face
Simplifying service management and follow up – ensuring accurate tracking; a reliable evaluation of planning and which measures need to be taken. Helping your staff to monitor key milestones, effectively managing your parts and stock availability, Return Materials Authorisations, serialised or lot tracked equipment – including equipment transfers, warranties, rentals and returns; as well as managing and tracking your labour and resources with ease.

Measuring financial performance – in order to control jobs, monitor costs, improve margins, assess their profitability and draw comparisons between current jobs.

Minimising risk – Scheduled, Conditional and Interval Based Preventative Maintenance, performed specifically to prevent faults from occurring and avoiding or mitigating the consequences of failure of equipment – this will significantly reduce your risk and instil customer confidence in your equipment and service.

Technology – Adoption of wireless technology, so you can update and monitor field technician activity in real time, keeping a close eye on your servicing. With Web technology, your technicians can create and modify jobs from the field – online or offline, empowering your employees with tools to easily search for and report on history and activity of customers as well as their equipment, thereby maximising productivity.

Customer satisfaction – Creating Service Level Agreements, Warranty and Meter Agreements to ensure customers are kept happy. Expediting business by offering your clients self-service options, so that they themselves can access important job information, review maintenance schedules and make requests.
Benefits
Greater Visibility
Make informed decisions with comprehensive reporting
Improved Accuracy
Better Control
Maximise Productivity
Superior collaboration
Focused efforts and time
Simplify decision-making
Reduce Costs
Streamline procurement
Manage cashflow
Improve Margins
Enhanced cost control and planning